September 18, 2012
Beltsville, MD: Holy Apostles Church to host a VIM Work Weekend and two-mile Procession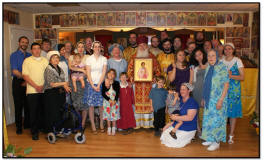 On Saturday, October 20, the parishioners of Holy Apostles Church in Beltsville, MD will perform a two-mile pilgrimage from their temporary church to what they soon hope will become their permanent house of worship – a historic brick church built in 1880.
Founded in 2001, the parish spent the last several years serving in a rented storefront and saving up money to eventually purchase or build a church. But on June 3, 2009, all of that changed when the parishioners of Holy Apostles witnessed a pure miracle. The parish was given a beautiful brick country church situated on two acres of land in Beltsville by the Christian Brothers Institute. The historic St. Joseph's Church is a disused Catholic cemetery chapel, built in 1880 in the American Queen Anne Revival style and listed on the National Historic Register.
For three years, the parishioners of Holy Apostles Church have worked to restore the chapel with their own hands, but significant repairs and renovations must be made to the building. "About a million dollars or more of funds are required to restore the building for proper usage as a church," said Metropolitan Hilarion. The parishioner's appeals for help were echoed by the First Hierarch during his visit to the Chapel in May 2011. "We appeal to all people, Orthodox Christians, friends, lovers of history, to support this most worthy endeavor to restore this church."
Despite not having sufficient funds to complete the restoration process, the faithful are anxious to move forward. On Saturday, October 20, they will process for two miles through the streets of Beltsville to the historic chapel. "The procession will be a physical expression of our prayer to the Lord that He move our parish to our new home," said parish rector Archpriest George Johnson. Upon completion of the procession, a moleben will be served, followed by a tour of the church.
The tradition of performing processions as an expression of faith goes back to the earliest days of the Church. "For centuries, Orthodox Christians have performed processions in different times of need – war, droughts, earthquake, famine, etc.," said Bishop George of Mayfield. "This is a sacred and important tradition, because it is a way of physically expressing our faith through struggle. We tend to get caught up in the hustle and bustle of modern day life, and forget that without struggle there is no reward. This is also an ideal opportunity for missionary work, because the service is being taken out of the confines of the church building and shared with the entire world."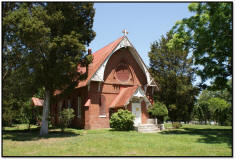 In order to prepare the church and property for this expression of faith, a Volunteers in Mission (VIM) work weekend is being organized at the parish. The VIM program is a diocesan initiative that seeks to gather volunteers in different parts of the diocese to help monasteries and parishes that are in need. On October 18 and 19, VIM director Archpriest John Moses will lead two work days at St. Joseph's Chapel.
In the words of Fr. John, this project is vital to the spreading of the Orthodox Faith in America. "We are small compared to others, but this means that we are like the leaven in the dough, or like the seed that falls into the ground to bring forth a large harvest. If we help and support each other by prayer and financial support, we will see much more accomplished."
VIM is very different from the many social and volunteer programs that exist in America, because it is not just about physical labor. Those who can spare a few hours to lend a hand may soon realize that they have helped themselves more than the parish: "If we roll up our sleeves and join with our brothers and sisters in their struggle to establish churches and missions, we will not only build churches, but we will also build up ourselves in heart, soul and spirit," said Fr. John.
Everyone is invited to come and participate in the work weekend. Volunteers are asked to contact Fr. John to confirm their participation (frj1951@yahoo.com or 540-887-8280).
For more information about the pilgrimage and VIM project, click here.
Media Office of the Eastern American Diocese