September 18, 2012
Two Male Choirs – Diasporan and Patriarchal – will sing at the Official Diocesan Celebrations of the Fifth Anniversary of the Reunification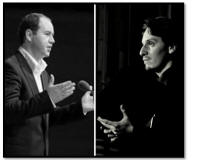 Two male choirs will sing the divine services in Novo-Diveevo and Garfield, dedicated to the fifth anniversary of the Reunification of the Russian Orthodox Church. The All-Night Vigil on Friday, October 12, in Holy Dormition Convent "Novo-Diveevo" will be sung by the diocesan youth choir, under the direction of Nicholas Kotar. Seminarians from both Holy Trinity and St. Tikhon's Seminaries will participate in the choir, as well as young singers from across the Diocese. The service will be dedicated entirely to the Myrrh-Streaming Hawaiian-Iveron Icon of the Mother of God, in honor of the fifth anniversary of her finding. The Vigil will begin at 6:00 PM.
The following morning, Saturday, October 13, a triumphal Liturgy will be served in Three Saints Church in Garfield, NJ, and will be sung by Moscow's Sretensky Choir, under the direction of Nikon Zhila. The Liturgy will start at 8:00 AM.
Since the feast is expected to draw a large number of pilgrims, visitors are encouraged to arrive at least half an hour early. Click here for more information.
Media Office of the Eastern American Diocese