September 21, 2012
Washington, DC: September Celebrations in the Parish of St. John the Baptist Cathedral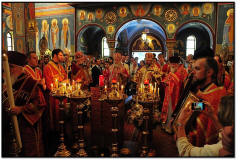 On Saturday the 15th and Sunday the 16th of September, the First Hierarch of the Russian Church Abroad, His Eminence Hilarion, Metropolitan of Eastern America & New York, came to the capital of the United States of America to lead the festal services in St. John the Baptist Cathedral in Washington, DC, in celebration of parish's recent patronal feast day. Concelebrating with His Eminence were the retired Primate of the Orthodox Church in America, His Beatitude, Metropolitan Jonah, cathedral rector Archpriest Victor Potapov, Archpriest John Moses (rector of All Saints of North America Church in Middlebrook, VA), Priest John Johnson (parish cleric), Priest John Weir (cleric of the Australian Diocese), parish clerics Priests Alexander Resnikoff and Victor Klimenko, and six deacons (headed by cathedral Protodeacon Leonid Mickle), in a church filled with a great number of the faithful.
Over the course of the two-day celebration, four priests confessed a multitude of faithful, who were eager to soften their hearts and cleanse themselves of all uncleanness. Holy Communion was offered from four chalices. Two choirs sang ‒ the Slavonic choir under the direction of Youri A. Petcherkin, and the English choir under the direction of Paula Genis.
During the Little Entrance, Metropolitan Hilarion awarded Priest John Johnson, assistant to the rector, with the right to wear the purple skufia. After the Eucharistic Canon, His Eminence ordained Subdeacon Thomas Opyoke to the diaconate. The newly ordained deacon will serve in All Saints of North America Church in Middlebrook, VA.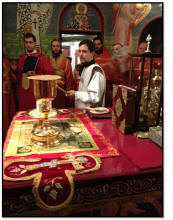 After the prayer behind the ambo, Metropolitan Hilarion delivered a homily in which he called upon parishioners to remember the most important Gospel Commandment – regarding love for God and for one's neighbor. He called upon those present to defend the truth in their daily lives, to maintain the purity of their own earthly lives, as the cathedral's heavenly patron, St. John, the Great Prophet, Forerunner, and Baptist of our Lord, had taught.
Following a procession of the cross and moleben, the His Eminence awarded parishioner Alexei T. Zacharin a blessed diocesan gramota. It stated, in pertinent part, "Upon your good initiative and according to your design, a major renovation of the parish house and grounds of Washington's Cathedral Parish of St. John the Baptist was accomplished. The parish house was significantly expanded and enhanced. The church's cramped choir loft and the solea were expanded without disturbing in the least the vision of the church's architect, the ever-memorable Bishop Daniel. Thanks to your efforts, the ordinary course of parish life continued uninterrupted throughout every stage of the complex construction."
Following the lengthy church services, parishioners and guests were afforded an opportunity to rest and fortify themselves at an abundant banquet presented by the sisterhood in the parish hall.
Archpriest Victor Potapov, Rector
Republication of materials must include a reference to:
"Eastern American Diocese www.eadiocese.org."
Media Office of the Eastern American Diocese