September 4, 2012
Novo-Diveevo: Archbishop Gabriel of Montreal led the Patronal Feast Day of Holy Dormition Convent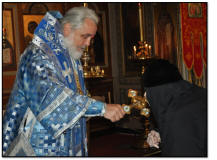 On Monday the 27th and Tuesday the 28th of August, on the great feast day of the Dormition of the Mother of God, the monastics and faithful of Holy Dormition Convent "Novo-Diveevo" in Nanuet, NY celebrated their patronal feast day.
The Novo-Diveevo convent is one of the most important spiritual centers of the Eastern American Diocese. The monastery was founded in the 1950s by Archpriest Adrian Rymarenko (later Archbishop Andrei of Rockland), who studied under the last of the Optina Elders – the Venerable Anatoly and Nektary. Many relics and holy objects are housed at the convent, including a unique portrait-icon of St. Seraphim of Sarov, painted during his lifetime, a wonderworking copy of the Vladimir Icon of the Mother of God (a gift from Elders Anatoly and Nektary), a cross from the Ipatiev House in Ekaterinburg, and more. Also to be found on monastery property is one of the largest Russian Orthodox cemeteries outside of Russia.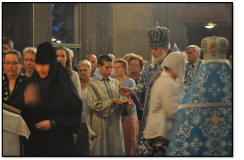 With the blessing of the First Hierarch of the Russian Church Abroad, this year, the festal divine services were led by His Eminence Gabriel, Archbishop of Montreal & Canada. His Eminence was co-served by monastery clergy: Archpriest Alexander Fedorowski and Protodeacon Sergei Arlievsky. Also praying in church were the convent's rectress, Abbess Irina, and members of the sisterhood. Prior to the start of the Divine Liturgy, an akathist was served to the Dormition of the Most Holy Theotokos, followed by a blessing of the water. After the Liturgy, Archbishop Gabriel led a moleben before the festal icon, and then congratulated the Abbess and sisterhood on the occasion of the joyous day of their patronal feast.
On Friday, October 12, the All-Night Vigil will be served in Novo-Diveevo during the official diocesan celebrations marking the Fifth Anniversary of the Reunification of the Russian Church and the finding of the Hawaiian Myrrhstreaming Iveron Icon of the Mother of God. The wonderworking icon will be present at the service, which will be led by the First Hierarch of the Russian Church Abroad, co-served by a number of hierarchs and clergy of ROCOR and the MP. Click here for more information.
Photos by Subdeacon Adrian Fedorowski
Media Office of the Eastern American Diocese