September 19, 2012
South Canaan, PA: "Elijah's Mantle," a Conduit for Donations of Vestments and Liturgical Vessels, has opened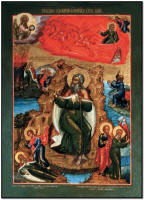 Seminarians of St. Tikhon's Orthodox Theological Seminary OCA in South Canaan, PA have opened Elijah's Mantle, "a conduit for used and excess liturgical items to be reused by churches and missions in need," regardless of jurisdiction.
According to the organization's website, "[Elijah's Mantle] relies completely on donations from churches with excess, churches that are closing, and clergy that have reposed or retired. It accepts items such as cassocks, vestments, icons, liturgical books, and liturgical utensils. It does not accept things which need extensive repair or which are not serviceable. The items received are made available to any [Orthodox] church, mission, or clergy who requests them… for the cost of shipping the items."
Elijah's Mantle is already working with the Eastern American Diocese, and is preparing to send four sets of priests' vestments to the ROCOR Mission in Haiti. Those interested in donating or following the organization's progress can get involved either on the website here or at its Facebook page here.
Icon provided by: www.damascenegallery.com
Media Office of the Eastern American Diocese