September 4, 2012
Jordanville: Archimandrite Flor (Vanko) has reposed in the Lord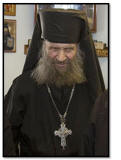 On Tuesday morning, September 4, Archimandrite Flor (Vanko), one of the senior-most clerics of Holy Trinity Monastery in Jordanville, NY, reposed in the Lord. Fr. Flor entered the monastery when it was still in Ladomirová, and in 1946 moved along with the brethren to Jordanville, and was tonsured a monk along with novices Alypy and Laurus (later Archbishop Alypy (Gamanovich) and Metropolitan Laurus (Skurla)).
We ask all the clerics and faithful children of the Eastern American Diocese to pray for the repose of the newly departed Archimandrite Flor.
Funeral services will be held at Holy Trinity Monastery on Wednesday, September 5th at 1:00 PM, and will be led by the First Hierarch of ROCOR, His Eminence, Metropolitan Hilarion, co-served by His Grace, Bishop George of Mayfield.
Media Office of the Eastern American Diocese