September 6, 2012
Jordanville: Metropolitan Hilarion led the Funeral of Archimandrite Flor (Vanko)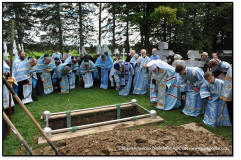 On Wednesday, September 5, the First Hierarch of the Russian Church Abroad, His Eminence Hilarion, Metropolitan of Eastern America & New York, led the funeral of the newly departed Archimandrite Flor (Vanko), a longtime cleric of Holy Trinity Monastery. His Eminence was co-served by the Administrator of the Chicago & Mid-American Diocese, His Grace Bishop Peter of Cleveland, His Grace, Eastern American Diocesan vicar Bishop George of Mayfield, and a multitude of diocesan clergy.
In his eulogy, Protodeacon Victor Lochmatow spoke of Fr. Flor's life and legacy, as the last of the monks to have emigrated to the United States from Ladomirová, the original home of Holy Trinity's monastic brotherhood.
After the funeral, the priests carried the coffin around the cathedral, and then to the monastic cemetery behind the cathedral, where the burial was held.
The editors of the official website of the Eastern American Diocese express their sincerest condolences to the brethren of Holy Trinity Monastery, asking that everyone please keep the newly reposed in their prayers, especially in the first 40 days after his passing.
Memory eternal to Archimandrite Flor!
Republication of materials must include a reference to:
"Eastern American Diocese www.eadiocese.org."
Media Office of the Eastern American Diocese