September 26, 2012
Service to the Synaxis of the Elders of the Glinsk Monastery was served in English for the first time at Holy Cross Monastery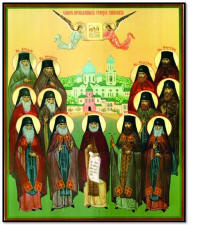 On the evening of Saturday, September 22, the brotherhood of Holy Cross Monastery in Wayne, WV served the All-Night Vigil for the Synaxis of the Elders of Glinsk Monastery. An English translation of the service for the Glinsk Elders was commissioned by the monastery brotherhood last winter, making it available this year for the first time.
With prayerful hearts turned to God, monks and lay faithful alike present at the service heard for the first time these beautiful hymns honoring the steadfast and God-pleasing struggles of the Glinsk Elders in the monastic arena. The Hermitage of Glinsk (located near the Russo-Ukrainian border) – "that great school of monastic life," as has said St. Seraphim of Sarov – has given the world a multitude of holy elders and has shown forth as a light of Orthodoxy from its beginning in the 16th century, through the troubled times of the 20th century and up to the present day.
On Sunday, September 23, His Grace George, Bishop of Mayfield, celebrated a Hierarchal Liturgy, followed by a moleben served in front of the relics of the Glinsk Elders. The relics were given to Bishop George as a gift from Archimandrite Anthony of the Glinsk Hermitage during a 2008 ROCOR delegation visit to Kursk accompanying the Kursk Root Icon.
At the close of the moleben, the faithful fervently sought the supplications of the Holy Elders, addressing them thus: "Pray ye to the Lord, that He restore eldership and the true spirit of monasticism in our monasteries… and clothe ourselves in the new man, renewed according to the image of Christ our God." May it be so, and may the holy and righteous example of the Glinsk Elders continue to strengthen us in our Holy Orthodox faith for years to come.
O Venerable Fathers of Glinsk, pray to God for us!
Republication of materials must include a reference to:
"Eastern American Diocese www.eadiocese.org."
Media Office of the Eastern American Diocese