September 29, 2012
Wayne, WV: Bishop George led the Patronal Feast Day of Holy Cross Monastery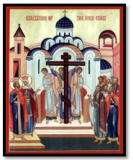 On Thursday, September 27, on the great feast of the Exaltation of the Precious and Life-Giving Cross of the Lord, the brethren of Holy Cross Monastery in Wayne, WV, celebrated their patronal feast day. Divine services were led by the monastery's abbot, His Grace, Eastern American Diocesan vicar Bishop George of Mayfield. On the eve of the feast, His Grace served the All-Night Vigil with the Bringing Out of the Cross, and performed the Rite of the Exaltation of the Cross.
The following morning, Bishop George celebrated the Divine Liturgy. His Grace was co-served by the monastery's deputy abbot, Abbot Seraphim (Voepel), monastery clergy, Archpriest Samuel Haddad (rector of St. Nicholas Church in Beckley, WV) and Priest Jonah Campbell (rector of Christ the Savior Church in Wayne, WV). During the Little Entrance, Fr. Seraphim was awarded the jeweled cross.
Media Office of the Eastern American Diocese