September 4, 2012
Jordanville: Annual Labor Day Celebrations in Honor of St. Job of Pochaev were held in Holy Trinity Monastery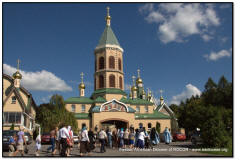 Every year in September, on the Sunday of Labor Day weekend, Holy Trinity Monastery triumphantly celebrates the memory of its heavenly intercessor, Venerable St. Job of Pochaev. This year, the celebration of St. Job took place on September 1st and 2nd.
On Saturday, on the eve of the feast, a gathering of diocesan youth undertook to establish a new tradition: beginning with a short moleben in Holy Trinity Cathedral, about 25 young people, led by diocesan secretary Archpriest Serge Lukianov, Protodeacon Joseph Matusiak (cleric of Three Hierarchs Chapel OCA in Crestwood, NY), and Fr. Ephraim Willmarth (monastery cleric), set off in procession around the monastery property. The famous Jordanville Cross marked the midway point of the five-mile procession, where the Akathist in Praise of God's Creation was served, in honor of the Church New Year (September 1 on the new calendar). Upon their return to the monastery, the pilgrims were greeted by His Grace, Eastern American Diocesan vicar Bishop George of Mayfield, who thanked the youth for the spiritual labor they had undertaken, and expressed his hope that this tradition might continue in the future.
Later that day, the clergy and worshipers who had gathered at the main cathedral set off for the monastery cemetery to the Dormition Church to greet the Pochaev Icon of the Mother of God. Upon returning to the main cathedral, Bishop George led the faithful in singing the akathist to the great God-pleaser St. Job before the icons of the Pochaev Mother of God, the Kursk Root Mother of God, and St. Job. That evening, the All-Night Vigil was served.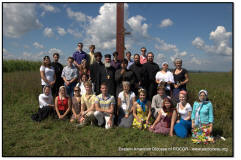 On Sunday morning, the early Liturgy was celebrated in Holy Trinity Cathedral's lower Church of St. Job of Pochaev. The festal Divine Liturgy in the upper church was celebrated by His Grace, Bishop George, co-served by monastery and visiting clergy. After the Eucharistic Canon, Subdeacon Monk Seraphim (Nikoloski) was ordained to the diaconate. The newly ordained Hierodeacon Seraphim will fulfill his service at Holy Trinity Monastery.
Upon completion of the Liturgy, a moleben with procession around the cathedral was served. After the service, Bishop George greeted Fr. Luke and his co-brothers and all of the faithful on the occasion of the feast and thanked everyone for their prayerful participation in the feast of St. Job of Pochaev.
After Liturgy, a festal luncheon was held for all of the monastery guests. On behalf of His Eminence, Metropolitan Hilarion, Fr. Serge Lukianov greeted the abbot, Fr. Luke, and the monastery brethren, and presented Fr. Luke a framed group photograph from the Autumnal Diocesan Clergy Conference, held last October in Holy Trinity Monastery.
Republication of materials must include a reference to:
"Eastern American Diocese www.eadiocese.org."
Media Office of the Eastern American Diocese