September 13, 2012
Howell, NJ: Bishop Jerome led the Patronal Feast Day of St. Alexander Nevsky Cathedral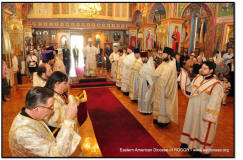 On Tuesday the 11th and Wednesday the 12th of September, on the feast day of the Translation of the Relics of the Holy Right-Believing Grand Prince Alexander Nevsky, parishioners of St. Alexander Nevsky Cathedral in Howell, NJ celebrated their patronal feast day.
On the eve of the feast, His Grace, Eastern American Diocesan vicar Bishop Jerome of Manhattan, paid an archpastoral visit to Howell. His Grace led the All-Night Vigil and celebrated the Divine Liturgy, co-served by local clergy and in the presence of the wonderworking Kursk Root Icon of the Mother of God.
During the Little Entrance, Bishop Jerome awarded cathedral cleric Protodeacon Nicholas Lukianov the kamilavka. After the Liturgy, a moleben with procession was served to St. Alexander Nevsky. In the parish hall, the parish sisterhood graciously provided a festal luncheon.
Republication of materials must include a reference to:
"Eastern American Diocese www.eadiocese.org."
Media Office of the Eastern American Diocese