September 6, 2012
"The Orthodox Approach to Mission" – A Lecture by Archimandrite Irenei (Steenberg)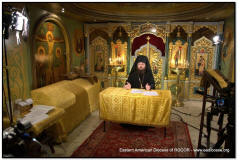 With the blessing of the First Hierarch of the Russian Church Abroad, His Eminence Hilarion, Metropolitan of Eastern America & New York, the Diocesan Media Office has published a lecture by Archimandrite Irenei (Steenberg) on "The Orthodox Approach to Mission."
With the blessing of His Eminence Kyrill, Archbishop of San Francisco and Western America, the lecture was recorded on August 5, 2012 in the former crypt of St. John of Shanghai & San Francisco, located under the altar of the Cathedral of our Lady, "Joy of All Who Sorrow," in San Francisco, CA, as part of the Pastoral Resources Program (PRP), which has as its goal providing similar lectures and seminars to the clergy and faithful of the whole Church Abroad.
This Pastoral Resources Program is sponsored by the Fund for Assistance to ROCOR.
The lecture can be viewed in its entirety below:
Republication of materials must include a reference to:
"Eastern American Diocese www.eadiocese.org."
Media Office of the Eastern American Diocese