September 29, 2012
East Setauket, NY: Metropolitan Hilarion led the Patronal Feast Day of Holy Cross Brotherhood on the Feast of the Exaltation of the Cross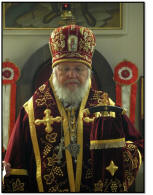 On Thursday, September 27, on the great feast day of the Honorable and Life-Giving Cross of the Lord, the brethren of Holy Cross Brotherhood in East Setauket, NY marked their patronal feast day. His Eminence Hilarion, Metropolitan of Eastern America & New York, First Hierarch of the Russian Church Abroad, led the Matins service and celebrated the Divine Liturgy.
The First Hierarch was co-served by the Brotherhood's abbot, Archimandrite Maximos (Weimar), Archimandrite John (Erickson; monastery cleric), Archpriest Igor Tarasov (rector of St. George's MP Church in Bayside, NY), Hieromonk Eutychius (Dovganyuk; cleric of the Synodal Cathedral of the Sign), Priest Michael Vladimirov (cleric of St. Nicholas Patriarchal Cathedral in New York City), Hieromonk Silouan (Justiniano; monastery cleric), Priest Alexei Oulanov (cleric of Holy Virgin Intercession Churchc in Glen Cove, NY), Priest Justin Havens (cleric of Sts. Peter & Paul Church in Salt Lake City, UT), and Hierodeacon Michael (Wells; monastery cleric).
The choir, under the direction of Hierodeacon Parthenios (Miller), prayerfully sang the divine services in Slavonic, English, and Greek. In his sermon after the Gospel, Metropolitan Hilarion touchingly explained the importance and significance for all of us of the Savior's suffering on the Cross. Upon completion of the Liturgy, His Eminence performed the rite of the Exaltation of the Cross, after which he addressed the brethren with a congratulatory greeting on the occasion of their patronal feast day. Fr. Maximos thanked the First Hierarch for his Archpastoral visit and for his spiritual care of the Brotherhood's monastics and worshippers.
Republication of materials must include a reference to:
"Eastern American Diocese www.eadiocese.org."
Media Office of the Eastern American Diocese