September 13, 2012
Jordanville, NY: St. Elizabeth Skete has undertaken a remodeling project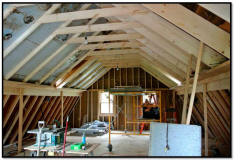 St. Elizabeth Skete in Jordanville, NY is remodeling its chapel. After collecting donations since last year's appeal, the sisterhood realized that building a chapel will take years. For now, they decided to work with the resources at hand to remodel the interior space to accommodate their needs for daily services, with the hope of building a larger permanent church once the necessary capital is collected. The estimate for the immediate project is around $45,000. The sisterhood has collected $10,000 thus far.
The sisterhood is currently adding a balcony and steps, as well as installing a new floor.
In order to complete this project, the sisterhood is appealing to our readers for much-needed financial support. Please send your commemoration lists for prayers at the skete's liturgical services to:
St. Elizabeth Skete
1520 State Route 167
Mohawk, NY 13407
Click here for photos of the construction progress.
Media Office of the Eastern American Diocese