September 12, 2012
Wayne, WV: Bishop George led the Divine Services in Christ the Savior Church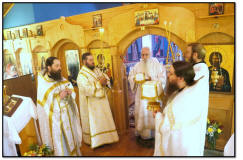 On Sunday, August 26, His Grace, Eastern American Diocesan vicar Bishop George of Mayfield, celebrated the Divine Liturgy in anticipation of the patronal feast day on August 29 of Christ the Savior Church (dedicated to the Icon of the Savior "Not-Made-By-Hands"). His Grace was co-served by parish rector Priest Jonah Campbell, Hieromonk Nektarios (Merry; cleric of neighboring Holy Cross Monastery), Deacon Jeremiah Davis (monastery cleric), and Deacon Matthew Penney, who was serving his 40 days at the monastery.
During the Sixth Hour, Reader Matthew Long was ordained a subdeacon. Upon completion of the Liturgy, Bishop George was presented with an icon of the Entry of the Mother of God into the Temple in honor of the original chapel founded on the current property of Holy Cross Monastery, that original outpost of Orthodoxy in Wayne, of which Christ the Savior Parish is the successor.
On Tuesday evening, Fr. Jonah served the All-Night Vigil on the eve of the parish feast of the Translation of the Icon "Not-Made-By-Hands," co-served by Fr. Matthew Penney. On Wednesday morning, a water blessing was served along with the festal Liturgy. In addition to the two above-mentioned clerics, Archpriest John Dixon (rector of Holy Spirit Antiochian Church in Huntington, WV) prayed in the altar.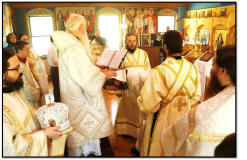 Fr. Jonah delivered a sermon describing how the Savior came to "seek and save that which was lost" (Luke 19:10). That which He sought was the likeness of God in mankind, which became darkened through the fall of our first parents, Adam and Eve. The Most Holy Word, the image of the Invisible God, restored His Own image in us through His Most Holy Passion and Resurrection. In that sense, each one of us also bears within himself the image of God, and the likeness to God is restored within us through struggling against the passions and a life of repentance.
One week prior to the patronal feast, parishioners installed a total of 33 new fresco icons and ornamentals, including Scripture verses, all printed by Fr. Jonah's icon printing shop "Damascene Gallery." In the coming weeks, parishioners hope to complete printing and installing frescoes throughout the entire church.
Republication of materials must include a reference to:
"Eastern American Diocese www.eadiocese.org."
Media Office of the Eastern American Diocese