September 29, 2014
Washington, DC: Parish of St. John the Baptist Cathedral organizing Pilgrimage to Holy Trinity Monastery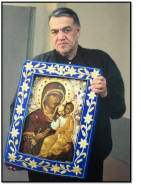 On Saturday the 25th and Sunday the 26th of October, the parish of St. John the Baptist Cathedral in Washington, DC will hold its annual pilgrimage to visit the grave of Jose Muñoz-Cortes at Holy Trinity Monastery in Jordanville, NY.
Cathedral rector Archpriest Victor Potapov invites the faithful of all of the parishes in the Eastern American Diocese to join the pilgrimage and come together in prayerful commemoration of the martyred Br. Jose. This year marks the 32nd anniversary of the beginning of the miraculous streaming of myrrh from the "Montreal" Iveron Icon of the Mother of God, and the 17th anniversary of Br. Jose's martyric death. His Eminence Hilarion, Metropolitan of Eastern America & New York, will lead the divine services at the monastery; the myrrh-streaming "Hawaiian" Iveron Icon of the Mother of God will be present, as well.
Pilgrimage Schedule
Saturday, October 25th
3:00-4:00 PM – Panihida at the gravesite of Br. Jose Muñoz-Cortes.
4:00-5:30 PM – Visit to the bookstore and/or purchase of monastery bread and other products.
4:00 PM – Prayer rule for Holy Communion in main church (optional).
6:00 PM – Supper in the monastery refectory.
7:00 PM – Hierarchal All-Night Vigil.
Sunday, October 26th
9:30 AM – Divine Liturgy.
11:30 AM – Lunch in the monastery refectory.
12:15 PM – Tour of the monastery and its newly renovated museum.
3:30 PM – Farewell panihida at Br. Jose's gravesite.
4:30 PM – Visit to St. Elizabeth's Women's Skete.
Media Office of the Eastern American Diocese