September 20, 2014
Palm Coast, FL: New Page in the Life of St. Nicholas Parish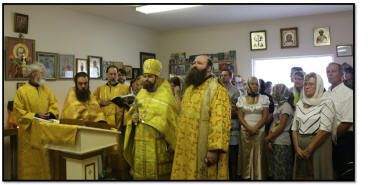 Thanks to the creation of a separate Florida Deanery, Orthodox life in that state has noticeably come to life and strengthened. Proof of the same was provided by a pastoral visit by Archimandrite Alexander (Belya), head of the new deanery, to St. Nicholas Church in the city of Palm Coast, FL. His visit was intended to better acquaint him with the parish's liturgical life, as well as to help in resolving various issues that have arisen here in connection with a change in church leadership.
Archimandrite Alexander arrived in Palm Coast on Saturday evening, September 6, and immediately led the All-Night Vigil in St. Nicholas Church. He was co-served by Priest Vladimir Kaydaov, who was serving in the parish for the first time. At the end of the service, Fr. Vladimir confessed the parishioners preparing for Communion.
On Sunday, September 7, the Divine Liturgy began in the presence of a large congregation of the faithful, led by Fr. Alexander and concelebrated by Fr. Vladimir and Deacons Leo Opie (parish cleric) and Anatoly Kuznetsov. The pious and attentive participation of the parishioners in the service was palpable. One could not fail to notice the harmonious and quite lovely singing of the choir, which is a significant factor in Orthodox divine worship.
Virtually all those in church formed a line to the Holy Chalice. It was a joy to see a multitude of children of every age, who nervously folded their arms across their chests and were the first to commune of Christ's Holy Mysteries.
Upon completion of the Sacrament of Holy Communion, Fr. Alexander delivered a heartfelt sermon, which garnered the rapt attention of all present. Then arrived the moment for which many parishioners, who wished to know the fate of their parish after losing their full-time, had been waiting. Priest Alexander Kazak, who for nearly three years had been nourishing the parish, asked to be retired for personal reasons relating to his family's return to their homeland – Belarus. Metropolitan Hilarion of Eastern America & New York honored his request. Parishioners naturally worried, wondering how the liturgical life at St. Nicholas Church was to continue.
As dean, Fr. Alexander read aloud the directive from the First Hierarch of the Russian Church Abroad, stating that, in connection with Fr. Alexander Kazak's departure and the appointment of Archimandrite Alexander (Belya) as temporary rector of St. Nicholas Church in Palm Coast, FL, rector Archpriest Serge Lukianov (diocesan secretary) is released from his obligations. Also appointed as second serving cleric is Priest Vladimir Kaydanov. After the announcement, many in church breathed a sigh of relief, comforted in now knowing that they would not be left without the divine services.
Upon completion of the service, in anticipation of the traditional Sunday luncheon, parishioners surrounded the dean and peppered him with questions. It is worth noting that Fr. Alexander calmly and firmly handled every concern relating to the parish's future fate. With pastoral dignity and diplomatic tact, he quelled the emotional bursts that several parishioners had recently displayed. After praying together, calmed and encouraged by their pastor, parishioners headed to the luncheon.
During lunch, the interaction took on an informal and friendly character. Parishioners discussed various pressing parish concerns, seeking counsel from their new rector and receiving exhaustive answers for him. Several interesting and edifying stories were shared from the 15-year history of St. Nicholas Church. One such story, told by parish council member Lubov Peretyagin, bears repeating.
Three years ago, the parish was renting a new space for the church that required serious renovation. The parish began searching for workers who could make quality repairs to the property at an acceptable cost. Suddenly, a middle-aged man appeared, slight and of average height with a neat beard, and offered to build the iconostasis and lay down flooring. He completed all of his work in a record two days, and refused any payment for his services. Does it even need to be said that his name was Nicholas?! Thus did St. Nicholas give his blessing to the church named in his honor.
The new priest, Fr. Vladimir, is also specially connected to St. Nicholas – every stage of his life has taken place under the protection of the Holy Hierarch. At the request of one parishioner, Alexey, Fr. Vladimir spoke more fully about himself, winning goodwill of those in attendance with his sincerity.
Several words must certainly be said about the church itself. The property rented by the church, which is small and very unremarkable, has been built up and adorned with piety and painstaking diligence. It is for this reason that the atmosphere here provides a simultaneously strict and spiritually prayerful feeling. One understands that the parish council and warden, Alexander Peretyagin, labor with love for God and neighbor for just this reason.
As Florida dean, Fr. Alexander's introduction to St. Nicholas Church concluded with a farewell address. He assured parishioners and parish clerics that the recently limited liturgical life will be returned to its normal path – all services will be handled without exception. The Archimandrite wished all those present God's aid in their labors for the Mother Church, calling on them to turn to him with any problems that may arise in the future and promising to resolve them.
Republication of materials must include a reference to:
"Eastern American Diocese www.eadiocese.org."
Elena Prokofiev

Translated by the Media Office of the Eastern American Diocese