September 4, 2012
Jackson, NJ: Metropolitan Hilarion led a Panihida to Archbishop Nikon (Rklitsky)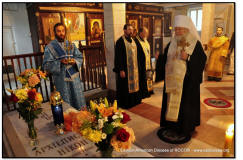 On Tuesday, September 4, on the 36th anniversary of the repose of Archbishop Nikon (Rklitsky), the First Hierarch of the Russian Church Abroad, His Eminence Hilarion, Metropolitan of Eastern America & New York, led a panihida in the lower church of St. Vladimir Memorial Church in Jackson, NJ at the tomb of the ever-memorable hierarch. His Eminence was co-served by Their Graces, Eastern American Diocesan vicar Bishops George of Mayfield and Jerome of Manhattan, Archpriest Alexander Golubov (cleric of St. Nicholas Patriarchal Cathedral in New York City), diocesan secretary Archpriest Serge Lukianov, Priest Leonid Goferman (rector of Holy Virgin Protection Church in New Brunswick, NJ), deputy rector Priest Serge Ledkovsky, and Deacon Nathan Mousselli (cleric of the Synodal Cathedral of the Sign in New York City). Also praying in church were Deacon Alexander Smida (parish cleric), Deacon George Temidis (cleric of Nativity of the Mother of God Church in Mahopac, NY), and members of the Diocesan Council.
Also commemorated at the panihida were the ever-memorable Archbishop Vitaly (Maximenko) and the newly departed Archimandrite Flor (Vanko; longtime cleric of Holy Trinity Monastery in Jordanville). Upon completion of the panihida, a regular meeting of the Diocesan Council was held in Howell, NJ.
Memory eternal to Archbishop Nikon!
Click here to view historic photographs of Abp. Nikon.
Republication of materials must include a reference to:
"Eastern American Diocese www.eadiocese.org."
Media Office of the Eastern American Diocese