April 2, 2013
Jordanville, NY: The Northern Lenten Retreat commenced at Holy Trinity Monastery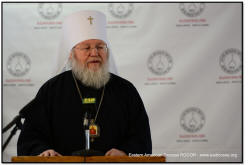 On Tuesday, April 2, the Northern Lenten Retreat for clergy of the Eastern American Diocese and the Patriarchal Parishes in the USA officially commenced at Holy Trinity Monastery in Jordanville, NY. On the eve of the retreat, many clerics began to arrive in Jordanville, traveling great distances to be with one another in these sacred days of Great Lent. Over 85 clerics and matushkas are participating in the Northern Retreat, in addition to all of the seminarians of Holy Trinity Seminary.
Before the beginning of the Great Compline, the First Hierarch of the Russian Church Abroad, His Eminence Hilarion, Metropolitan of Eastern America & New York, together with His Grace, Eastern American Diocesan vicar Bishop George of Mayfield, and gathered clergy, greeted the holy relics of the Holy Hierarch St. Luke of Simferopol in Holy Trinity Cathedral. The relics have been traveling across the East Coast with the blessing of the Administrator of the Patriarchal Parishes in the USA, His Eminence Justinian, Archbishop of Naro-Fominsk, and will remain in Holy Trinity Monastery for the duration of the conference.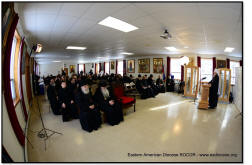 On Tuesday morning, upon completion of the appointed lenten services, retreat participants assembled in the seminary hall for a moleben before the beginning of any good work. Metropolitan Hilarion then welcomed the participants, wishing them God's aid for a fruitful retreat. Monastery abbot Archimandrite Luke (Murianka) also welcomed the clergy and noted the pleasant effect that the unexpected snowstorm had on the penitential spirit of the retreat. "The holy fathers of our monastery have always maintained that snow and wintery weather during Great Lent, help us to focus more intently on prayer," said Fr. Luke.
The Northern Lenten Retreat will conclude on Wednesday afternoon, April 3, after the Hierarchal Liturgy of the Presanctified Gifts, which will be led by Metropolitan Hilarion.
Republication of materials must include a reference to:
"Eastern American Diocese www.eadiocese.org."
Media Office of the Eastern American Diocese